So there I was, sitting at the bar as the sun set in the lovely port town of Marmaris in Turkey, watching the conclusion of the 2014 FA cup final. Looking up at the big screen as Arsene Wenger lifted the cup high above his head and the Wembley crowd cheered on Arsenal's first trophy in almost 9 years. I toasted the big screen and thought the sunset was an appropriate setting to toast the end (lets face it, we all knew it was never going to last forever) of a wonderfully enjoyable project.
We were having a few drinks later on in the bar whenever we got chatting to some West Ham fans. My mate turned to one of them and said "Have you ever seen that website Since Arsenal Last Won a Trophy?". He nodded his head, "my Spurs and Gunner mates are always on that website". "Well there's the boy there", as I looked up to see a finger pointing back in my direction. He laughed and said "So what happens now?". I smiled back, "The only honourable thing I can do is put it back to zero".
Its funny to think that such an offbeat encounter probably summed up the size of what that project became. What started as a little joke between myself and a friend grew into something that so many football fans wanted to take part in. Whenever Obafemi Martins scored that goal in the League Cup Final back in February 2011, I made a wisecrack. "I've been to university and graduated since Arsenal last won a trophy", with an irritating smirk on my face. Then a lightbulb went off in my head.
By May of that year, I turned it into a website for everyone to add their own tweets to. I'd never used theTwitter API before, so I thought it would make it a good learning experience. I am a web developer after all, so we should always be looking to sharpen our skills on wee side projects. I also stuck a big massive clock on there as a nice reminder of the years, months, days, hours, minutes and seconds since their last success. Tick.. Tock.. Tick. Tock.
The stats were scary. The website ended up with over 400,000 shares on Facebook. Over 220,000 shares on Twitter and received good old fashioned emails in their thousands. To date it has received over 2,000,000 visits since it began, with referral traffic from all over the world. I'm from a little community outside Omagh, Co. Tyrone, with an estimated population of 225 people (Well it was 13 years ago according to the 2001 Northern Ireland Census). I find it really hard to fully comprehend those figures.
The other thing that I found scary was how quickly it exposed my own vanity whenever it was mentioned. I rushed to my phone to tell a friend whenever I spotted Alan Sugar tweeting the link to Piers Morgan or Paddy Power posted on their twitter account. I sniggered whenever News of the World ( remember them? ) described it as 'cruel' and almost lost focus driving home one evening, whenever an irritated Arsenal fan read out the exact timing of the clock on BBC Radio Five Live 606. He seemed to think it was a justifiable reason for Arsenal to Sack Arsene Wenger ( which thankfully never happened.. I would have felt somewhat responsible if it had).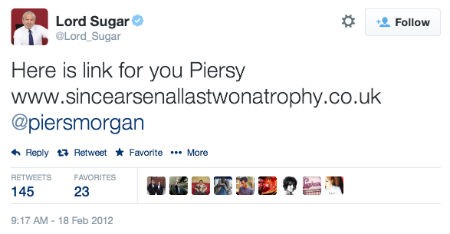 In fact, the levels of insanity that people were drove to at times by that little clock was completely baffling. Here is a wee selection of some of my favourite Tweets the past few years: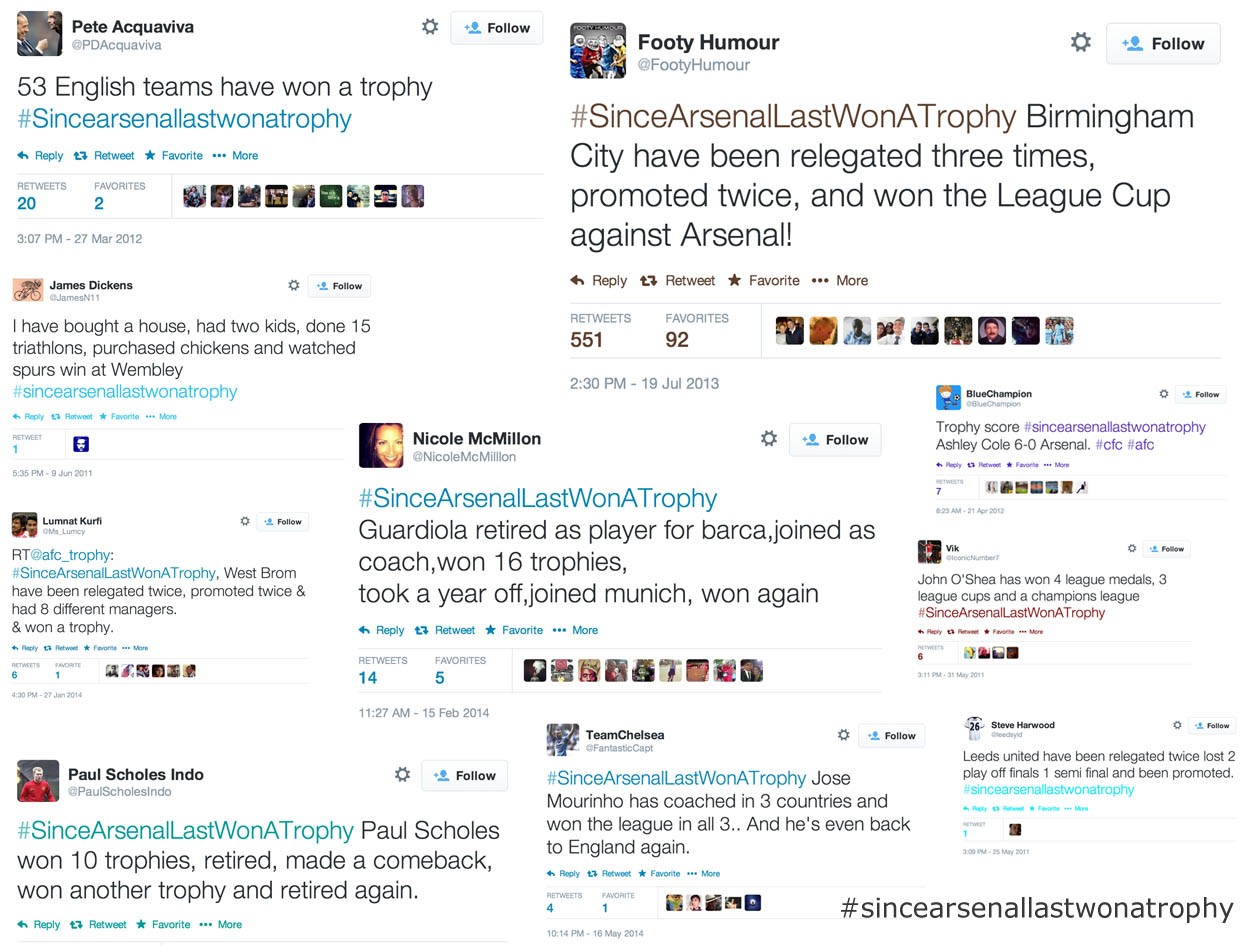 Whenever the day of the cup final did come round, I fully expected (but maybe not in such dramatic fashion) Arsenal to win. Even though I was in a bar, I couldn't help myself but log on to check the website's Analytics on my phone, and see traffic coming from The Guardian, BBC, EPSN and different Sports Websites from around the world. It seems they were more interested to see what happens on our website than the final itself.
I want to take this opportunity to thank everyone who took part in this project. All the Shares, Likes and Tweets that were posted. Each and every one of them brought a smile to my face. I also want to thank the Arsenal fans ( even the ones that called me a c**t on twitter - no hard feelings? yea? ) because I'm sure it wasn't easy to watch the clock tick by every second. You got your reward in the end whenever it went back to zero.
As for our next idea, well you'll have to wait and see. Our attention could be drawn to Brendan Rodgers' quest for a league title for Liverpool or those dark clouds that have been over Old Trafford the past last 12 months. Make sure to follows us on Facebookand Twitter to keep up to date with all our latest projects. Why not let us know what your big viral idea is, and together we can see if we can make it work?
As for this one, it was left for Piers Morgan to get the final word in on the evening of the cup final.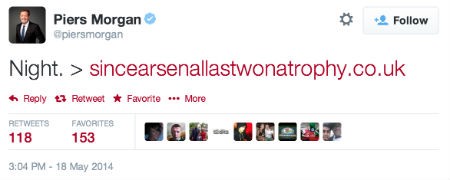 Thanks again from all of us at Reflex Studios #itsbeenemotional